Green Acres has been a part of the Brimfield Antique and Collectiable Shows since the early 1980s.The founders, George and Doris McCurdy have since passed on. They leave their legacy with their five sons, three who currently run the field .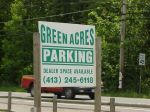 Green Acres host 90 dealers from around the United Sates and Canada, and has parking capacity of over 300 cars. While green acres is certainly not the largest of the Brimfield Fields, we are pround of our freindly, easy going family operation. Most of our dealers have been coming for decades and wouldn't have it any other way. Our dealers work hard, make money and watch out for each other. That's what it's all about and that is how George and Doris would have wanted.
So, if you want to have fun, make some money, and enjoy your stay,
Green Acres is the Place to Be.
For more information contact Sheila at greenacresbrim@gmail.com
or give her a call at 413-245-6118